Valentine's Day is a great day to start a new romance manga and we're here to share our favorites. The first four in this post are by Danda, but Djinny added the last.
I'm in Love with the Villainess
When corporate worker Rei Ohashi finds herself reborn as the protagonist of her favorite dating sim, it's the perfect opportunity to do what she's always wanted—seduce the villainess! In her previous life, Rei had no interest in the princes the game had to offer. She only had eyes for Claire François, her nemesis. Now, armed with her extensive knowledge of the game, and her undying love for Claire, will Rei finally be able to win over the woman of her dreams?
-Official Synopsis
I'm in Love with the Villainess is an ongoing yuri light novel and manga by Inori and Aonoshimo. Rei is very devoted (perhaps overly so) to Claire and it is fun to see. It is a sweet story with good representation of lesbian and bisexual women, yet the characters are also not morally perfect, which is great.
Kiss of the Rose Princess
Anise Yamamoto has been told that if she ever removes the rose choker given to her by her father, a terrible punishment will befall her. Unfortunately, she loses that choker when a bat-like being falls from the sky and hits her. Anise is granted four cards representing four knights whom she can summon with a kiss. But now that she has these gorgeous men at her beck and call, what exactly is her quest?!
-Official Synopsis
Kiss of the Rose Princess is a nine volume reverse harem manga by Aya Shouoto. It was the first manga I fully collected, so it has a special place in my heart. Anise is a spunky tsundere heroine and I love her reactions to the reverse harem that she doesn't want to have. She grows to love her Rose Knights and it's a sweet process to see. Kaede is also probably my favorite reverse harem love interest ever.
Otome Mania!!
Yuzumi Haruna is a master gamer and game creator, and has finally landed her dream job in an otome game company. Now, she will do whatever it takes to conquer the industry. But is success worth it? Will it truly bring Yuzumi happiness? Or will she spend her days wallowing in anger and anxiety? What must Yuzumi do to release a successful game?!
-Official Synopsis
Otome Mania!! is a two volume reverse harem manga by Tsukigase Yurino. It is nothing super profound, but it is a short, sweet, and fun read. All of the guys (especially Tachibana) were very fun. I certainly recommend it to otome game fans.
Kamisama Kiss
Nanami Momozono is alone and homeless after her dad skips town to evade his gambling debts and the debt collectors kick her out of her apartment. So when a man she's just saved from a dog offers her his home, she jumps at the opportunity. But it turns out that his place is a shrine, and Nanami has unwittingly taken over his job as a local deity!
-Official Synopsis
Kamisama Kiss is a twenty-five volume manga by Julietta Suzuki. It is my favorite romance manga. The characters beyond the heroine and her male lead are also well written. It is wonderfully paced. I found Tomoe and Nanami to have a sweet romance and it is also one that I can believe.
Kimi to Wonderland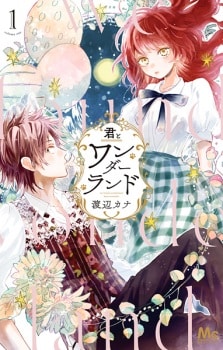 Kimi to Wonderland is about the 15-year-old Nobara Morimura. 3 Years ago she had an accident with her bike and since then she has a hard time hearing the others around her – losing more and more the social contact to people. For that, she can hear the animals talking. Coincidentally, she meets a nameless boy, who she calls Rou and for whatever reason, she can hear him much clearer than the other humans. And another unusual mystery involves him: He can turn into a dog!
The first time I stumbled on Kimi to Wonderland was when I was visiting a book store just for fun again. The cover art of the first volume jumped right into my face and I fell instantly in love with that. So I of course read the description, took a quick glance at the art style of the manga and then bought it.
Reading the three volume manga made my heart flutter many many times with all its cute, sweet (and also some bitter-sweet) moments, that I was really sad when I read the last chapter.
Unfortunately, the manga isn't out in English right now. (I could read in German because I'm from Germany) But if one day you have the chance to read the manga, try it out!
Let us know, if you read any of that before, or if you like to try one of these out!
Happy Valentine's Day! ❤